Choosing where to focus Social Media effort
We all know we need Social Media, but where is the best place to focus my effort?
Overview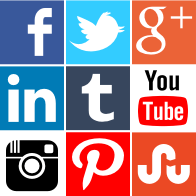 While no hard or fast rule exists, we can apply some common sense to focus more effort on particular sites dependent on your business type.
One thing we can guarantee, is that additional links will have a benefit in SEO, and consistent choice of images will boost your branding.
Link from your website to each page you have, and then link back for ultimate effect.
We think that advertising will be effective for consumer driven companies in the main, but that some business service advertising can be effective when targeted correctly.
Facebook
The most popular used and visited site of the lot. Particularly good for consumer driven companies.
Dedicated Page
It is probably worth setting up a page for almost everyone, you can link to and from your website for an SEO boost.
Advertising
Probably not the best fit for business to business providers. When we tried it we had an uplift in traffic, but didn't get any conversions from it. They will send you a lot of noise about boosting posts once they have your card details.
Instagram
Photo sharing platform owned by Facebook and rapidly growing in popularity. Easy to link your accounts, and now you can toggle between personal and business it is much better to use.
Particularly good for designer brands and companies that can use a lot of imaging. Somewhere that seems under-utilised in the high-end construction fields, landscapers, interior designers etc…
Dedicated Page
Every link has an SEO boost, for the groups listed above it should be a must.
Advertising
Advertising is available and seems a good fit for the right brands. Only when using paid advertising can you create links to your site in a post.
Twitter
The service for short but sweet Tweets. With the doubling of the Tweet length, it has made it easier to get your messages out there.
Dedicated Page
As above, add links to your site for SEO. Every time a tweet is made, around 10 bots will visit the relevant page, and it supposedly speeds up indexing on Google.
Advertising
Probably more aimed at consumer driven market, product launches etc, hard to see where it can work for most small businesses.
LinkedIn
The business networking/social site. Great place to find jobs and contacts in your field of expertise. Although there is definitely a focus on professional services, we do see some companies in other fields do well, and there is no reason why every business couldn't set up a page.
Dedicated Page
Anyone in business to business services would definitely benefit from a page here, and the connections you can make.
Advertising
If you are selling a service to other businesses this is probably the place to focus
Google+
Relatively underused, it tends to focus on communities (or circles), and no longer links to YouTube or vice versa, but does link into a number of other services, including gmail.
The main reason to consider adding this is for SEO. It is connected to Google, and rumor permitting, gets indexed even more quickly than Twitter.
Dedicated Page
For businesses, it does link nicely into Google My Business, a must for almost everyone, even if you rarely use it.
Advertising
Target audience looks to be in the Engineering and IT sectors, and mainly USA and India, so if you are in this field then it could be good.
YouTube
Another part of the Google family, this is a great place to share videos and therefore particularly useful for creative and media companies, although there are more than a few viral bloggers, and has moved to diversify slightly into live streaming.
Dedicated Page
You can add links to your website and Google+ page, post links automatically to other sites after uploading. Add your Google Analytics tracking code for combined reporting.
Advertising
The site seems to transcend most areas, and with Googles knowledge of people should be good for targeting users.
Other Info
YouTube is a great platform for storing your videos, and then embedding in your site. To do this within Ousia add the YouTube control, add then plug in the video number which is the last part of the URL.
Others
PInterest, StumbleUpon and Reddit are great places to share content, and can drive lots of visits to a well thought out landing page.
There are a number of different platforms in languages outside of English, or geographically focused.