Ben Nevis – Conquered! we were climbing Ben Nevis in memory of Sammy. We all met in Croydon, to get the train to Gatwick for a flight to Inverness.
Friday 31/08/2012
So if you read some of the other articles I have written, you may have noticed we were climbing Ben Nevis in memory of Sammy, so I thought I would put some pictures and videos up from our weekend.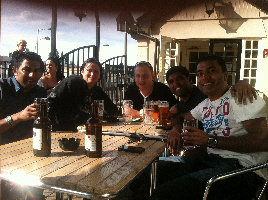 We all met in Croydon, to get the train to Gatwick for a flight to Inverness.
Then it was a minibus round to the hire car place, to pick up a car for the weekend, and then a 2-hour drive across Scotland to Fort William. It was dark at the time, so we couldn't see what the scenery was like until we were on our way back.
We checked in at a wonderful B&B on the outskirts of town, called Taransay. They had kindly swapped our breakfast for some sandwiches we could take up with us, and it was time for a quick check of the weather and an early night as we were leaving the next day at 08:00. The weather looked like it was going to be shocking!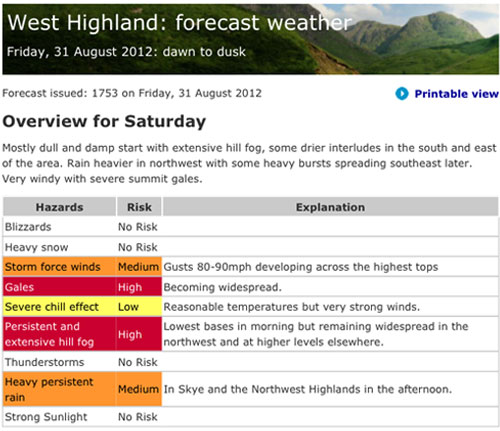 Saturday 01/09/2012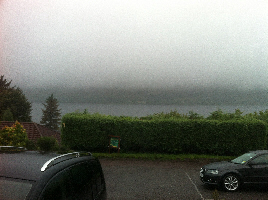 Everyone was up bright and early the next day, and we were in the car for the short journey round to the
Visitor Centre
at Ben Nevis, and as the Met Office had predicted, it was indeed shocking weather, the cloud level was at about 300m at the time but rising, so we knew we would have at least 1000m to climb in fog and wind.
The decision was taken out of hands as to what route we would take up, it was going to have to be the Mountain Path as it was the safest way in the weather conditions.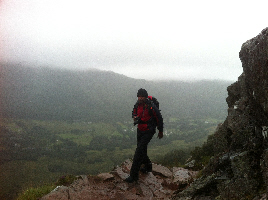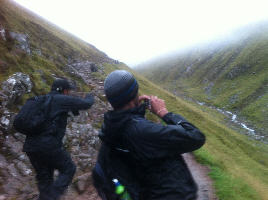 There were some spectacular views up until we hit the cloud, the area is extremely pleasing on the eye.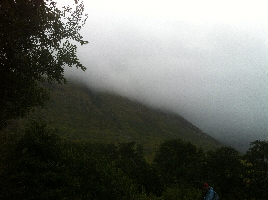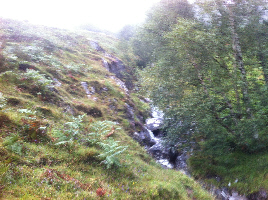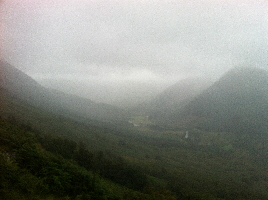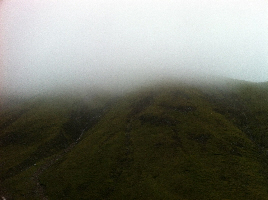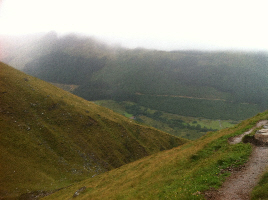 The wind was getting stronger as we went up, and once we hit the clouds, was gusting at about 40mph, with visibility probably at about 50m. While walking round a corner I found an area where you could catch views of the bottom, and just how strong the wind was.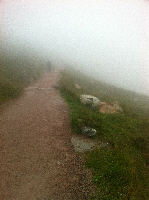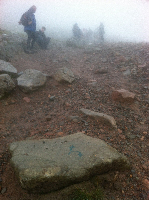 At about 1000m we were starting to struggle, the conditions made it a lot harder than it should have been. While there I found this painted on one of the rocks. How True!
Once at the summit, there was no point in hanging around to much, the wind was still getting stronger, the fog thicker, and we were getting colder and wetter!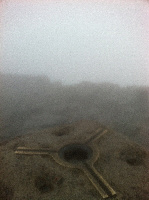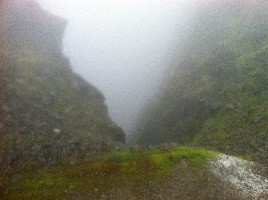 I did get this snap of the summit though, and of the sheer drop hidden by the clouds.
I took this video of the start of the descent, so we could show just how bad it was getting, the winds were gusting at storm force, and at times knocking you off path. Total time for ascent, 4:00.
The cloud was still rising as we came down, it must have been close to 1000m when we came back below it, these snaps were our reward for climbing it!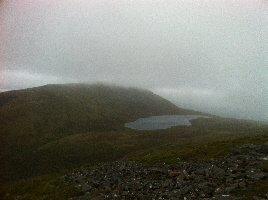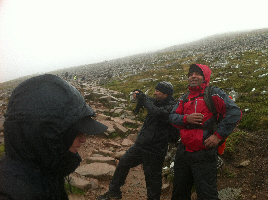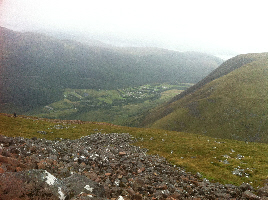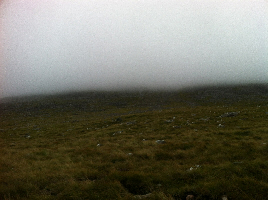 It took 3 ¼ hours to come back down, however we were delayed by 45 minutes because there was a race up and down the mountain going on, I hear the winner did it in 1:30!
Total time for descent, 2:30 (45 minutes taken off for runners).
Total climb time 6:30!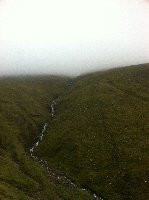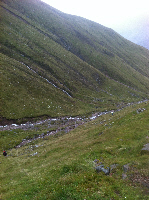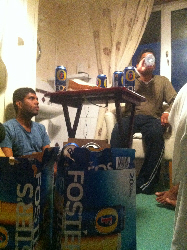 Once down, we went for some food and got some drinks to take back to the hotel to celebrate our achievement!
Sunday 02/09/2012
We checked out after a fantastic breakfast and the people that ran the B&B kindly gave us £10 towards our fundraising, this will be gratefully sent to the Royal Marsden, and push our total up a bit more, hopefully we can break the £2000 barrier on just giving.
Flights weren't booked until 20:00, so we had a few hours to kill. We took a scenic drive down to Loch Ness and stopped off at a town called Fort Augustus at the western end of the Loch. We took a few photos of the Locks for the canal and then jumped back in the car as it was too early to get drinks in the pub!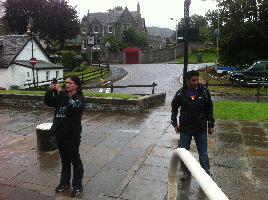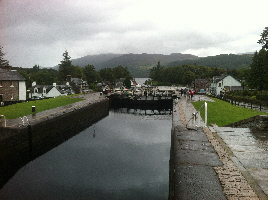 Next destination was the Loch Ness Centre at Drumnadrochit, we had a browse around the Shops, and then found a pretty local pub for a quick beer. The wasps were out in force however, so didn't hang around too long.
We were all beginning to ache quite badly by this time, every step felt like a huge effort, but it was quite amusing.
Our final destination was the

Clansman Hotel, where we could chill out until we needed to take the car back and get to the Airport. I took this video of us trying to get down the stairs.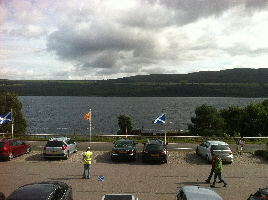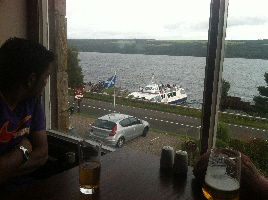 From here it was back to Croydon, the journey wasn't bad, but we started struggling more as the evening went on, and were amusing ourselves with Mervin's walk.
Monday 03/09/2012
Ouch, should have booked the day off! I've even had to take steps backwards at one point!
Summary
If you are looking for a break in this country then I would definitely recommend taking a look at Scotland, and it was a fitting tribute to a great man