How do I keep content natural for my web site or blog?
Remember to write content in a language that the user should be able to understand at the level required for the topic!
Do it as regularly as you can, with relevant quality content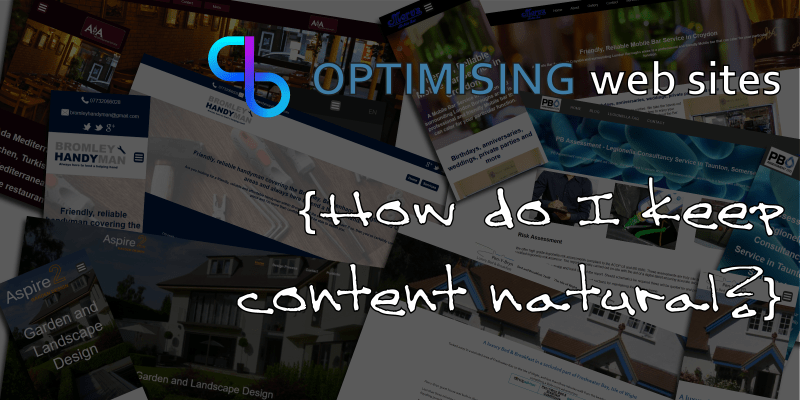 Don't write a blog post just for the sake of it, a poorly written article can hinder your site rather than help it! When written well, and written for your reader rather than the Search Engines, the pages will naturally contribute to the keywords on your site, then be patient, the traffic should come.
Overuse of images can result in a slow loading pages, try to keep to a few relevant items
Don't make it too long, or too short! Between 3 and 10 minutes reading should be enough, or 600 to 2000 words.

Too short and it won't contain enough keyword content to rank properly on the search engines
Too long and it is actually then the size of the page and keyword dilution that will start to hurt you

Keep on topic. Wondering off will result in keyword dilution, and potentially confuse the search engines, or worse the reader.

Another great source of readership can be by recycling older content. As things change particularly quickly in the modern world, you may be able to update it with newer ideas or put a link in that links to a newer more relevant post.
Use long tail keywords
Enough of the techno babble please. What is a long tail keyword I hear you say? I did say above when it gets technical I sometimes struggle…
Long tail keywords are the use of phrases or keyword combinations that a user may search for online.
If you have landed on this page directly then the chances are you may have entered something like?
How do I keep content natural for my web site
How do I keep content natural for my blog
What is a long tail keyword
What is meta data
All of these word combinations form either part of a sentence or header somewhere on this page and search engines will find this information and save it in their databases.
An example of using short versus long tail keywords can be found below.
Lose weight (short)
How to lose weight (long)
How to lose weight fast (long)
Use meta-data
What is meta-data you may ask?
Meta data is used to tell the search engines what the page is about amongst other things, and is added to the background of the page by nearly all Content Management Systems. It should include;
Title of between 45 and 60 characters
Description of between 100 and 200 words
A few choice keywords (comma separated) if chosen
Use internal links and or a good structure
It may sound simple but linking between relevant blog posts can encourage your reader to carry on to another post. It will also build up a map of related articles for search engines to follow.
Similarly grouping related articles into relevant directories can create keyword rich areas of your site.
Build links naturally
Ok, so your auntie has a gardening business and friend has a building business but you sell cars. By all means get a link, but do it naturally with a description of your site in the link so that search engines know what they are visiting. Also try to limit it to one or two links per site in a relevant area, say a "friends of page"/"recommended business page", blog post or similar.
Another approach can be to build links between individual bloggers pages, a good link on an article to one of theirs may result in a reciprocal link back to you.
Beware the link building companies that will put links to your site on spammy or low quality sites, these may do more harm than help.
Use Social Media
Share your own content on social media by all means, but try not to end up with a Facebook page with 100's of links back to your site, your friends won't appreciate that! It can send a good signal to the search engines though if people come in from social media and stay for a while on your site, who knows if read by a friend of a friend you may get a sale.
I tend to stick to LinkedIn as it is where my audience would be, but if selling products it may be good to get yourself on other platforms.
If using business pages, it is recommended that you keep your branding the same across all of them.
We also strongly recommend having some sort of share now button to encourage readers to share on their own. A share is a recommendation of that piece of content that sends signals to search engines, and also to that readers connections.
Create good quality content
Yes, we did start off with that, but it is so important that we thought we would add it again! Good quality content for your readers will result in more shares, likes and sales!
Further Reading
This is part of a collection of articles on optimising web sites, check out the full directory using the link below.